To download the android spy app , you can check your email for the instructions. Plus, you will get a download URL, activate code to pair the device to your xnspy account and credentials to your online account from where you access the monitored text messages. Take the download URL and paste it into the internet browser on the target device to initiate the download.
You can use any internet browser for this purpose. Once the download is complete, initiate the installation and follow the instructions to complete the setup. You can also visit our How to Install page for any further assistance. Once the setup is complete, xnspy will go into stealth mode. This ensures for intrusion-free monitoring of a user. As a final point, I would say, the app is great since I used it and I had some great results.
Yet, you can make some small steps, to check the things you are so bordered about. Most of the smartphones have a pin or password, meant to protect the owner from others to access it. So, if you desire to see what is going on, you can simply ask your spouse or child for the password. It might look a bit weird. Yet, if you have a strong bond then this might not look like you are looking for something.
Spy on Text messages with FREE SMS Tracker
Another great way to find out what your spouse or children are up to or even employee is to ask for their phone. Some of the good cases are to ask it to make a call because you are out of battery. This a perfect way to spy on text messages free without installing software.
Well, for this method, you more likely cannot use it with your employees, yet can do with your spouse or children nicely. And, use it only if you feel like very pissed of about things. It is a great way to spy text messages without others knowing. If you have some substantial evidence from your spouse of infidelity, then you might want to collect text messages or maybe calls.
If you have a business and you gave phones to your employees I recommend you to download a spy app over their phones. In this way, you avoid information leeching out. This method provides you strong evidence over the calls made, time, and messages that were made. Also, the internet data used. We are done with all three of our methods to spy on texts; I am confident one would have fitted in your case to go with already! Usually, most of the good apps such as SpyAdvice work in stealth mode, so your app will be invisible on the phone targeted.
The company of the app will send you all the instructions regarding the download, installation and how to work with it. Yes, but only once and just for a few minutes. As for the one I recommended in this article, SpyAdvice, it works equally well all around the world on any given service provider carrier. However, choose what you believe suits you the best. Among all the methods, this app method is easy to use and hassle-free — given that you know whether the kind of spying you are doing is legal.
Indeed, SpyAdvice is kind of a set and forget method which works for all — in any case. And of course, its free trial with all the premium features is a hint how excellent the app is for what it does! Nevertheless, checking for the password is a nice way too.
Yet, it is a bit risque to apply. And on top, if you get caught — that should not be so good for you. Finally, if you enjoyed my article feel free to leave your thoughts regarding it in the comment section. Also, if you had some experiences with any of the methods listed above, please tell me and many other readers like you about them. Method 1: Spy on text messages with a spy application. SpyAdvice app.
3 Simple Steps to Spy on iPhone Text Messages Free ()
Method 2: Spying text Messages via Locks and Passwords. Methods 3: Obtaining the Mobile Records. Review: Text Message Spy. User Review 4. You can solve this issue with Spyzie text tracking facility that, not only informs you about text messages, but other activities as well. Instantly view a complete record of all sent and received messages including chat list history, sender and receiver names, actual text messages, and the number of messages in each chat.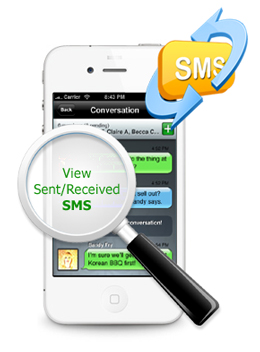 If the monitored device is an iPhone, iPad or iPod Touch, you can read the whole iMessage chat history. Spyzie enables you to download image or video attachments from SMS messages to your computer or mobile device. Instantly judge who are the most important persons from the number of messages and chat frequency.
Being able to see text messages from another iPhone is very vital for parents or guardians when watching out for their kids. For this to work:. Yes, you can. Just get Spyzie monitoring app. With It, you can read private messages. Besides, you can view the contact list and be able to block the use of Facebook Messenger. Again, Spyzie saves the day. With Snapchat pretty popular among kids, monitoring their activity on the app is crucial.
Spy on text messages
So on Spyzie, you can use the parental control settings to track Snapchat messages. Yes, it is very much possible to track WhatsApp messages. Plus you won't be detected while monitoring the app. With a WhatsApp tracking software, like Spyzie, you can do this quickly and comfortably.
At a small fee, of course. Spyzie has flexible payment structure. It provides you with access to ID and passwords for easy access to the target Phone without raising any alarms. It saves you jailbreaking the target phone as most apps require of you. If they have access to your Apple ID and password, they can. If you have added your Apple ID in your iMessage, they can sign in using your ID in their devices and hence receive and read all the messages that you do. To avoid this from happening, you can refrain from adding your Apple ID to iMessage, or better yet ensure you keep the Apple ID out of anyone's sight along with the password.
Failure to do so is likely to result in violation of applicable law that could result in severe monetary and criminal penalties imposed on the violator. You should consult your own legal advisor with respect to legality of using the application in the manner you intend to use it prior to registering, downloading, installing, and using it.
How to Secretly Monitor Someone's Text Messages on Android [How-To]
Spyzie cannot be held responsible if a user chooses to monitor a device the user does not have the right to monitor; nor can Spyzie provide legal advice regarding the use of the Software. Try now. Spyzie 6.